Home > Products > Base metals and materials > Chemicals
PET Bottle Flakes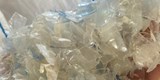 Date Published:
01/03/2015
-
Sudan
Contact details

We produce hot washed PET Bottle Flakes free of PVC in White, Blue, Green Colors.
Our supply capability is up to 300 Tons per month.
يوجد لدينا بلاستيك مجروش بولي إيثيلين قياس 12 ملم ،غسيل يالماء الساخن و بعدة ألوان أبيض ،أخضر،أزرق ، منشأ السودان . يستخدم قي صناعة الفايبر و خيوط البولستر
طاقتنا الإنتاجية تصل 300 طن في الشهر.
Price :
700 USD/Ton
Price details
---
FOB
---
, omarouglo
Browse all Ads omarouglo
Review omarouglo
Join Date
1-3-2015
Last Seen 3-3-2015
---
---
---