agadir ait baha Morocco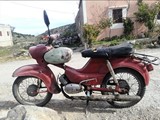 Date published :
9 th ,January,2019
-
Morocco
Contact details
Simson)Used motorcycle for sale)
- Motorcycle works 100%
Simson was a German company which produced firearms - automobiles - bicycles and motorcycles - and mopeds. Under the Third Reich - the factory was taken from the Jewish Simson family - and was renamed several times under Nazi and later Communist control. The Simson name was reintroduced as a brand name for mopeds produced at the factory in the former German Democratic Republic (GDR). Simson mopeds were then produced in Suhl (Germany) until 2002.
Price :
Resistable 1000 Dollars
Price details :
On the customers account
---
Karim Hamdaoui
All Ads Karim Hamdaoui
Karim Hamdaoui Rating
Date joined:
8-1-2019
Date last seen: 8-1-2019
---
---