Residential Commercial LIFTS UAE مصاعد فلل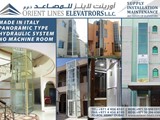 Date published :
30 th ,July,2019
-
United Arab Emirates
,
Dubai
Contact details
تركيب وصيانة المصاعد للفلل والقصور والمراكز التجارية والمباني مصاعد بانورامية داخلية وخارجية
ضمان 10 سنوات ,صيانة مجانية
متخصصون بالمصاعد الفلل والقصور والمراكز التجارية ذات الصناعة
الايطالية, بدون حفرة أو غرفة أو بئر. بأسعار اقتصادية، ومدة توريد وتركيب منافسة.
تتوفر المصاعد بالاحجام التي تناسب معظم المساحات الداخلية المتوفرة بالمنازل والمباني التجارية القائمة حيث يتم تركيبها من ون الحاجة الى اية اعمال تأسيس.
تعتبر مصاعد اورينت من المصاعد المتميزة في المنطقة، حيث أن جودتها ,وضمانها يتراوح لمدة عشر سنوات شاملة جميع القطع وتصاميمها العصرية تتناسب مع الديكورات الداخلية والخارجية لاي منزل (واجهات زجاجية - ألوان عصرية - تصاميم فخمة)
Orient Elevators for Villas, Commercial LIFTS for Buildings, Malls. Galleries, Cargo Lifts, Elevator for Schools, Hospitals, Shops.
We provide fully Panoramic Elevators with Automatic doors and Manual as well, Traction Type Elevator, Hydraulic, No Pit, No Shaft & MRL, without any kind of construction work.
Price :
11
---
AHMED JESRI
All Ads AHMED JESRI
AHMED JESRI Rating
Date joined:
19-7-2014
Date last seen: 19-12-2020
Contact Details
Name
AHMED JESRI
Address
ابوظبي-دبي-العين-الشارقة-راس الخيمة
Country
United Arab Emirates
Phone
0559565313/044566101
Fax
044566199
Send message AHMED JESRI
---