Reliable JLR Car Service Center in Dubai Premier Car Care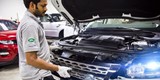 Date published :
12 nd ,November,2018
-
United Arab Emirates
,
Dubai
Contact details
For all the JLR Car owners in Dubai, Premier Car Care is considered as a Trusted Workshop for Land Rover, Range Rover, and Jaguar Cars. With Our Team of Experts, we provide a range rover car services like full car checkup, car mechanical maintenance, car detailing, car ac checkup, car body repair and car
window tinting. If youre interested, come and visit our workshop today.
Price :
1000
Price details :
Selling
---
Stephen Jean premiercarcare
All Ads Stephen Jean premiercarcare
Stephen Jean premiercarcare Rating
Date joined:
27-8-2018
Date last seen: 17-9-2019
---
---