PET Bottle FlakesHot Washed بلاستيك مجروشغسيل ساخن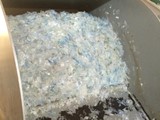 Date published :
15 th ,March,2015
-
Sudan
,
Khartoum
Contact details

We produce hot washed PET Bottle Flakes free of PVC in White - Blue - Green Colors.Our Produc can be used for making synthetic vibers -
Our supply capability is up to 300 Tons per month.
يوجد لدينا بلاستيك مجروش بولي إيثيلين قياس 12 ملم ،غسيل يالماء الساخن و بعدة ألوان أبيض ،أخضر،أزرق ، منشأ السودان . يستخدم قي صناعة الفايبر و خيوط البولستر
طاقتنا الإنتاجية تصل 300 طن في الشهر , و بسعر تنافسي.
Price :
700 USD/Ton
Price details :
FOB
---
, Ouglo PET Flakes
All Ads Ouglo PET Flakes
Ouglo PET Flakes Rating
Date joined:
1-3-2015
Date last seen: 3-3-2015
---
---
Contact Details
Commercial name
Ouglo PET Flakes
Name
Omar Ouglo
Address
Industrial Area,Bahri,Khartoum
Country
Sudan
Phone
00249 999500600
Send message Ouglo PET Flakes
---