Online Furniture Stores Dubai Asghar Furniture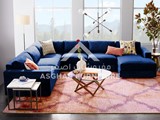 Date published :
18 th ,March,2021
-
United Arab Emirates
,
Dubai
Contact details
Asghar Furniture is a company operating for more than 30 years. It has been located in UAE and has its branches and factories located in Sharjah, Ajman, and Dubai. It focuses and caters the needs of people who need furniture for their homes and offices. It is known to be the biggest furniture company in UAE. Its main aim is to provide best quality, unique style, proper selection, and long lasting services for their company. The furniture is imported from different countries since they are best known for their quality and uniqueness leaving their customers satisfied. They are all Asian and European countries like Indonesia, China, Thailand, Italy, etc. They are an exporters, importers, and manufacturers of office and home furniture.
Dubai has become a shopper's paradise. People may step into Dubai to benefit from variety of shopping. Asghar Furniture may serve the benefits to their people as they are surrounded all over UAE. Henceforth, people of all over Dubai are keen interested in high quality products. Asghar Furniture is the right place where the customers can benefit from all kinds of products. It provides variety of furniture from bedroom sets, kitchen sets, dinning sets, miscellaneous, filling cabinets, sofa cum bed, shoe rack, sofa sets, and much more. The best thing about Asghar Furniture is it cuts out the middleman. Which may lower the budget and the customers can benefit from affordable prices. The company has a two-way communication from organization to customers. Thus, it makes Asghar furniture easy to communicate with their customers.
Asghar Furniture has its head office located in Abu Dhabi, where as its branches are located in Dubai, Sharjah etc. Since it covers the entire UAE, people all over UAE can contact Asghar furniture at their convenience. This benefits the company as they make people aware of their existence and also deals directly with their customers as they have removed intermediaries in between which may else disrupt the chain.
Since Dubai, has variety of overseas companies dealing in variety of household products such as IKEA, @ homes, etc Asghar Furniture has to keep its margins low so that they can achieve higher market shares. Not only this, they should advertise extensively and get involved in mass marketing in order to achieve growth and gain a competitive edge. In addition, they do not have many sources in Dubai, thus they should provide more links so that the customers can easily get access to their contact info.
Asghar Furniture benefit their customers by offering great quality with latest designs of furniture, after sale service, door to door delivery service, large stock available in bulk at their warehouses, value for money and so on.
Thus, Asghar furniture has flourished over 30 years. They are also willing to expand more by developing more designs and creations. Their passion for work has improved and encouraging their customers to benefit from their designs and innovations. They can incur more expansion by exporting to major countries rather than Dubai and UAE, so that they can show their creation to the world around
Shop Furniture online Dubai: https://asgharfurniture.ae
Price :
1
Price details :
1
---
Asghar .
All Ads Asghar .
Asghar . Rating
Date joined:
16-3-2021
Date last seen: 16-3-2021
---
---