ITIL Foundation Certification in Abu Dhabi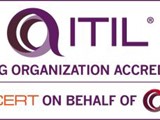 Date published :
11 st ,July,2018
-
United Arab Emirates
,
Abu Dhabi
Contact details

ITIL® describes processes, procedures & tasks.
ITIL® look after for organization to establish integration with the organizations strategy, delivering value, and maintaining a minimum level of competency.
Sprintzeal is willing to offer you ITIL® Foundation Certification in Abu Dhabi in an affordable price.
Sprintzeal trains working professionals by delivering high quality training in the areas of IT Service Management with 100% passing guarantee in 1st attempt in very affordable price.
• Sprintzeal offers 2-days of Classroom Training to achieve your goals for ITIL® Certification in Abu Dhabi.
• All Participants will get instant E- Learning Pre-course access so it helps all to prepare before exam.
Price :
2751
---
, Six Sigma Course in Dubai
All Ads Six Sigma Course in Dubai
Six Sigma Course in Dubai Rating
Date joined:
26-3-2018
Date last seen: 2-8-2018
Contact Details
Commercial name
Six Sigma Course in Dubai
Name
Avantikabisht
Country
United Arab Emirates
Phone
588546299
Send message Six Sigma Course in Dubai
Wep page
https://www.sprintzeal.com/ae/course/six-sigma-green-belt-certification-training/dubai
---