HD over IP جهاز نقل اشاره عالي الجوده عبر الشبكه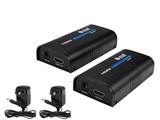 Date published :
25 th ,July,2019
-
Jordan
,
Amman
Contact details

توفر لدينا جهاز نقل الاشاره للصوت و الصوره عبر شبكه الانترانت الداخليه و ذلك بتقنية ال
HD لمزيد من المعلومات يرجى الاتصال بنا
HDMI Over IP Extender: Extend up to 330 feet
Easily expandable. Add remote units as you add monitors
Supports 10/100 Ethernet connection
Built in default EDID table
Supports HDTV resolutions to 1080p and computer resolutions to 1920x1200
Broadcast real-time HDMI video and audio signals to multiple display locations with a managed or non-managed network switch
Transmits an HDMI signal over one CAT5e/6 cable
Plug-and-Play installation allows receivers to find the transmitters automatically on the same subnet.
Web interface for changing IP addresses
HDCP compliant
Support for multiple transmitters requires a managed network switch with VLAN/IGMP support.
---
, مؤسسة الأنظمة الذكية
All Ads مؤسسة الأنظمة الذكية
مؤسسة الأنظمة الذكية Rating
Date joined:
11-5-2009
Date last seen: 28-7-2019
---