DISPERSING AGENT مشتت لاضافات الخلطات الاسمنتية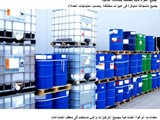 Date published :
5 th ,February,2017
-
Egypt
,
Cairo
Contact details

DISPERSING AGENT مشتت لاضافات الخلطات الاسمنتية
مشتت يوضع فى الخلطات الاسمنتية لمنع ترسيب مكونات الخلطة الاسمنية بالقاع
A dispersant or a dispersing agent or a plasticizer or a super plasticizer is either a non-surface active polymer or a surface-active substance added to a suspension, usually a colloid, to improve the separation of particles and to prevent settling or clumping.
The definition of a dispersing agent is a chemical that is added to an oil, cement or another liquid to prevent it from hardening or clumping.
An example of A solid material dispersed in a liquid requires an additive to make the dispersion process easier and more stable – this is the role of the dispersing agent, ...
Price :
00
---
, ليمرا للكيماويات والخدمات البترولية
All Ads ليمرا للكيماويات والخدمات البترولية
ليمرا للكيماويات والخدمات البترولية Rating
Date joined:
20-2-2016
Date last seen: 5-2-2017
---