Broadway Interiors LLC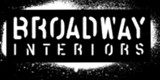 Date published :
12 nd ,February,2021
-
United Arab Emirates
,
Dubai
Contact details
Broadway Interiors are a Dubai based interior design company. We were established in 1999 and specialize in unique solutions across F&B/Hospitality, Office, Government, Leisure, and Residential sectors. We have won numerous design awards both internationally and in the Middle East for our innovative, highly successful projects, demonstrating outstanding design by delivering some of the most talked-about commercial offices and F&B outlets.
---
Maria Barnes BroadwayInteriors
All Ads Maria Barnes BroadwayInteriors
Maria Barnes BroadwayInteriors Rating
Date joined:
26-1-2021
Date last seen: 26-1-2021
---
---