Big SALE on Electronics Home Appliances BUY ALL for less price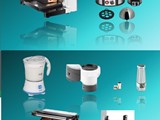 Date published :
19 th ,December,2015
-
United Arab Emirates
,
Dubai
Contact details
BUY ALTOGETHER ELECTRONICS/HOME APPLIANCES & ALL FASHION TOOLS AND ACCESSORIES FOR AED 3 PER PIECE.
1. Home Appliances/Electronics- around 4000 units.- With brands, AEG, Clatronic, Bomann, etc.
2. Bomann Chimney Hood - around 200 units- Brand: Bomann from Germany
3. Fashion Tools & Accessories- around 150,000 pieces mixed of rings, earrings, necklaces, bangles, hair accessories, hair brushes, etc.- with Brands Parsa Beauty and Look by Bipa
4. Make-up- around 9000 - with Brand Rolf Stehr from Switzerland
Buy all these items together for 3 Dirhams each only.
For more details, please contact.
Price :
3
---
Abdulla Ali
All Ads Abdulla Ali
Abdulla Ali Rating
Date joined:
18-12-2015
Date last seen: 18-12-2015
---