هارد ديسك إس إس دي سريع للكمبيوتر لابتوب أو مكتبي WD Blue 500GB PC SSD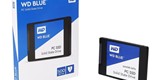 Date published :
23 rd ,November,2018
-
Kuwait
,
Hawalli
Contact details
هارد ديسك إس إس دي سريع للكمبيوتر (لابتوب أو مكتبي) 500 جيجابايت ماركة ويستيرن ديجيتال نوع بلو (أزرق)
WD Blue 500GB PC SSD - SATA 6 Gb/s 2.5 Inch Solid State Drive
500GB Storage Capacity
2.5"/7mm Form Factor
SATA III 6 Gb/s Interface
Up to 545 MB/s Sequential Read Speed
Sequential read speeds of up to 545 MB/s and sequential write speeds of up to 525 MB/s.
An industry-leading 1.75M hours Mean Time To Failure (MTTF) and several error-correction technologies for lasting reliability.
Optimized for multitasking to simultaneously run resource-heavy applications without system slow-down.
Available in 2.5"/7mm and M.models to accommodate most PCs.
WD FIT Lab certification for compatibility across a wide range of laptop and desktop computers.
The free, downloadable WD SSD Dashboard lets you easily monitor the status of your drive.
Price :
36
Price details :
داخل الكويت فقط
---
, CompuNet Computer Systems Co
All Ads CompuNet Computer Systems Co
CompuNet Computer Systems Co Rating
Date joined:
23-11-2018
Date last seen: 24-11-2018
---