منظفات صناعية عالية الجودة من سمارت جروب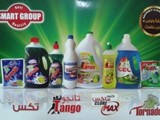 Date published :
18 th ,February,2014
-
Egypt
,
Cairo
Contact details
Smart Group Company (SGDC) is one of the leading home care companies in Egypt.
SGDC distributes a wide range of highly reputed and successful brands covering the
segment of liquid detergents and other household cleaning products.
SGDC is committed to the pursuit of excellence and adherence to the highest quality
standards in all its core activities. The company has also won numerous laurels for
leadership in developing Egyptian products that are at par with some of the best
international brands.
SGDC is proudly Egyptian, and Truly World class.
With our high-quality products and highly-skilled professional team,
we are confident in our ability to serve your business needs.
If you are interested in our products, please contact us at your earliest
convenience and a member of our service team will respond to you
within 24 hours-guaranteed.
Price :
يبدأ السعر من 20 جنيها للكرتونة حتى 108 جنيها حسب المنتج
Price details :
السعر شامل الشحن
---
, سمارت جروب للمنظفات والكيماويات
All Ads سمارت جروب للمنظفات والكيماويات
سمارت جروب للمنظفات والكيماويات Rating
Date joined:
6-12-2013
Date last seen: 23-12-2014
Contact Details
Commercial name
سمارت جروب للمنظفات والكيماويات
Name
محمد شوق
Address
الاردنية العاشر من رمضان
Country
Egypt
Phone
00201019403779/ 0020
Fax
002015363040
Send message سمارت جروب للمنظفات والكيماويات
Wep page
www.smartgroup-chem.com
---