مصعد بانورامي اورينت للمصاعد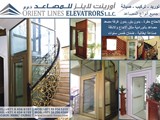 Date published :
30 th ,July,2019
-
United Arab Emirates
,
Dubai
Contact details
اورينت للمصاعد
متخصصون بالمصاعد الفلل والقصور والمراكز التجارية ذات الصناعة الايطالية, بدون حفرة وبدون أي اعمال انشاء . بأسعار اقتصادية، ومدة توريد وتركيب منافسة.
, وضمانها يتراوح لمدة عشر سنوات شاملة جميع القطع وتصاميمها العصرية تتناسب مع جميع الديكورات الداخلية والخارجية .
(واجهات زجاجية - ألوان عصرية - تصاميم فخمة)
لمزيد من المعلومات يرجى الاتصال على الارقام التالية
Internal & External Elevators, Silent and easy to install, Complete Panoramic, without any machine room, without any pit and shaft. Complete Hydraulic System from Italy. Latest design for Elevators with guaranteed safety for use.
Price :
10
---
AHMED JESRI
All Ads AHMED JESRI
AHMED JESRI Rating
Date joined:
19-7-2014
Date last seen: 10-2-2020
Contact Details
Name
AHMED JESRI
Address
ابوظبي-دبي-العين-الشارقة-راس الخيمة
Country
United Arab Emirates
Phone
0559565313/044566101
Fax
044566199
Send message AHMED JESRI
---