للبيع بمشروع ويست تاون بفرلى هيلز الشيخ زايد فيلات وتاون هاوس و شقق ود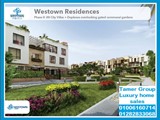 Date published :
2 nd ,October,2013
-
Egypt
,
Cairo
Contact details
للبيع بمشروع ويست تاون بفرلى هيلز الشيخ زايد فيلات وتاون هاوس و شقق ودوبلكس.
ويست تاون مدينة سكنية تجارية إدارية متكاملة.
بعيدا عن الفوضى والازدحام، ولكن بالقرب من وسائل الراحة.
هندسة معمارية رائعة.
استخدمت أحدث أساليب البناء المعاصر، وذلك مع مراعاه توزيعات المساحات الخضراء الواسعه و التصميمات المعماريه المتميزه.
حدائق العامة و جراجات تحت الارض صيانه فوريه وانظمة حمايه وامان.
طبقات متعددة من الأمن باستخدام أحدث التكنولوجيا لسلامتك.
تصميمات عالمية و مستوى خدمة راقي .
ويست تاون النادي.
يمكن للمقيمين الاستمتاع عضوية في نادي ويست تاون مجرد قصيرة سيرا على الأقدام من منازلهم.
مدارس انترناشونال .مستشفيات وعيادات طبية . محلات ومطاعم وكافيهات وبنوك وشركات عالمية بالاضافه إلى 7 فنادق . تم تطوير المشروع بالتعاون مع سوليدير.
For more of the latest projects Sodic
Tamer Group
sales, luxury homes
.
Price :
2400000
Price details :
-
---
, Tamer Group sales luxury homes
All Ads Tamer Group sales luxury homes
Tamer Group sales luxury homes Rating
Date joined:
30-3-2013
Date last seen: 26-12-2015
Contact Details
Commercial name
Tamer Group sales luxury homes
Name
تامر ابوزيد
Address
مدينة الشيخ زايد
Country
Egypt
Phone
01006160714
Send message Tamer Group sales luxury homes
Wep page
Contact Us - 01006160714. Tamer Group. Real Estate Egypt Cairo
---