كاشف المعادن اليدوي وكاشف الجوالات DZSC 3003B1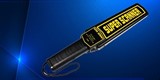 Date published :
12 nd ,August,2020
-
Saudi Arabia
,
Riyadh
Contact details
الان اشتري جهاز كشف الجوالات المغلقة والمفتوحة والذي يعمل من خلال تمرير الجهاز علي كامل الجسد لكشف اي معادن او جوال موجود مع الشخص حتي وان كان الجوال مغلق .
جهاز كشف الجوالات يعمل بكفاءة ويمكنك استلامة من احد معارضنا بالرياض وجدة والخبر والقصيم ويمكننا شحنة الي اي منطقة في المملكة المنطقة الشمالية او المنطقة الجنوبية او المنطقة الشرقية او المنطقة العربية .
الجهاز مناسب لقاعات الاحتفالات ومناسب للمدارس والهيئات الحكومية والفنادق والهيئات والوزارات وجميع الاماكن التي تحتاج الي دقة في التفتيش ومنع دخول الجوالات والمعادن الي مكان معين .
..
كاشف المعادن والجوال المحمول باليد من نوع
SUPER SCAN HAND HELD METAL DETECTOR Metal Detector (DZSC-3003B1)
GP3003B1 handheld metal detector, HHMD, portable metal detector, super scanner, body scanner
Detection sensitivity: detection of one yuan coin, the detection distance =9CM
Detection mode: sound and light alarm.
Power supply: 9 volt battery box (6F22ND battery), external charger function (charger optional)
Static current: less than 26mA
Current job: sound and light less than 120mA
Operating temperature: -5 ? to 45 ?
Dimensions: 41.5 * 9 * 4.5 cm
Weight: 352g
Packing size: 49 * 26 * 44cm (25 / box, 12.5 KG / box)
- ضمان للمنتج لمدة عامين
فروعنا في المملكة العربية السعودية ( الرياض – خميس مشيط - القصيم – جدة ) ولنا فروع أيضا في البحرين .
Price :
1
---
salma gamal
All Ads salma gamal
salma gamal Rating
Date joined:
30-6-2020
Date last seen: 17-9-2020
---