قرميد بلاستيك من ماركة جوناريت عالي الجودة بأفضل العروض والاسعار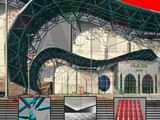 Date published :
14 th ,May,2017
-
Egypt
,
Cairo
Contact details
عرض خاص علي اسعار القرميد البلاستيك و الاسكاى لايت – قباب سماوية و جميع منتجات الشركة
A. H. M Roofing, cladding, insulation, skylights, and space frame systems.
شركة ايه اتش ام
للأسقف والتجاليد والعوازل والقباب السماويه والأسبيس فريم سيستم
نبذه عن الشركه :
شركة ايه.اتش.ام . وكيل و موزع حصرى للعديد من المصانع السويسريه والتركيه والأوروبيه فى مصر والشرق الاوسط وافريقيا وذلك فى مجال الأسقف و التجاليد والعوازل والقباب السماويه و الأسبيس فريم سيستم.
منتجاتنا الرئيسيه :
ألواح بولى كربونيت – انطمة بولى كربونيت و قطاعاته - ألواح الألومنيوم كلادينج – الواح (يو بى فى سى) البديل الافضل للصاج المعرج - الواح (بى فى سى) القرميد البلاستيكى البديل الافضل للقرميد الفخارى - ألواح الخشب البلاستيكى - ألواح الطاقه الشمسيه – أنظمة ستاندينج سيم , بالأضافه الى الهياكل الحديديه ثلاثيه الابعاد (اسبيس فريم سيستم) والعديد و العديد من المنتجات الأخرى التى تخص المقاولات الصناعيه.
عملائنا الرئيسيين : المصانع / شركات المقاولات و الهندسه / تجار الجمله و الموزعين.
مشروعاتنا الحديثه دوليا و محليا :
سواء بتوريد منتجاتنا فقط لعملائنا المذكورين أو توريدها و تركيبها : مطار بغداد الدولى – مطار القاهره – مطار النزهه – محطات توتال مصر و الأردن – و محطات مصر للبترول – شركات بترول مختلفه – جامعات متعدده – مطاعم – مولات تجاريه - مصانع متعدده و نوادى رياضيه.
للمزيد من التوضيحات والتفاصيل لتلبية استفسارات وتساؤلات حضراتكم عن مواصفات كل منتج علي حدي مرفقا به شهادة المنشأ وشهادة الضمان و الكتالوج الخاص لكل منتج
نتشرف بدعوة حضراتكم بزيارة
مقر شركتنا في : 155 برج الاندلس – شارع المريوطية – حي الهرم – الجيزة
العنوان
155 برج الاندلس – المريوطيه –الهرم – الجيزه – مصر
About us: A.H.M Co. is exclusive agent and distributor for a lot of Turkish and European manufacturers in Egypt, Middle East and Africa in the fields of Roofing, Cladding, Insulation, Skylights, and space frame systems.
Our main Products:
Polycarbonate sheets & systems – Aluminium composite panel (A.C.P) – UPVC SHEET – PVC/ASA SHEET – Wooden plastic sheet – Solar Panels, Standing Seam AND Space frame systems Moreover, a lot of other products which are related to industrial constructions.
Our main customers: Manufactures / construction and Engineering companies / wholesalers and distributors.
Our latest projects locally and internationally:
By supplying our materials to our mentioned customers only / or supplying & installing:
Baghdad Airport – Cairo Airport – Al-Nozha Airport -Total gas stations in Jordan and Egypt – Misr petroleum gas station – petroleum companies – universities – restaurants – Malls - different manufactures and sporting clubs.
---
Hussein Ahmed
All Ads Hussein Ahmed
Hussein Ahmed Rating
Date joined:
12-3-2017
Date last seen: 12-3-2017
---
---