عرص بيع سكراب وخردة معدنية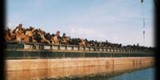 Date published :
10 th ,February,2019
-
Turkey
Contact details
عرض بيع سكراب معدني تقيل
النوع: HMS1 & HMS2
الكمية: مليون طن
مدة التوريد: سنة
مكان التسليم: ظهر السفينة في أي ميناء في الشرق الأوسط
Scrap offer withe price 270$/tn CIF Sea port in Middle East and Africa
We, Offshore & Industrial Services
Limited, on behalf of the end seller mandate / end seller, we offer for sale at a special competitive price and quality for HMS 1 & 2 for 1,000,000MTW SPOT for delivery to the buyers nominated sea port in Turkey or any Arab country and Africa the final price 270$
Please see attached our SCO for the said commodity, issued on the 7nd February 2019, and valid for 7 days.
Please be advised this a special price confirmed today by the seller for this contract.
You will have to submit to our company on the return of the sellers contract documents, a completed and signed NCNDA - IMFPA by you. we will provide all the documents required, including the sellers LOI format.
Our company only receives a yearly agency fee paid by the seller on completed contracts.
All other requirements are stated in the initial SCO.
Price :
270 $
Price details :
عرض بيع سكراب معدني تقيل النوع: HMS1 & HMS2 الكمية: مليون طن مدة التوريد
---
إبراهيم الشاليش
All Ads إبراهيم الشاليش
إبراهيم الشاليش Rating
Date joined:
9-2-2019
Date last seen: 10-6-2019
---