دجاج برازيلي مجمد حلال جرلر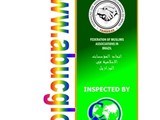 Date published :
25 th ,December,2011
-
United States
Contact details
دجاج برازيلي مجمد حلال جرلر.
نحن شركه تجاريه امريكيه متخصصه في استيراد وتصدير المواد الغذائيه نعلن انه يتوفر لدينا لتصدير دجاج برازيلي مع شهاده حلال من اتحاد المؤسسات الاسلاميه في البرازيل.للمزيد من المعلومات ارجو التصال ب قاسم
We are an American trading company leading in food product exporting, we offer BRAZILIAN HALAL FROZEN CHICKEN to Middle east countries with reasonable price, We deal with end buyers and brokers , Brokers who want to be benefit of this deal need to send LOI and NCND, end buyer need to send LOI and proof of them government permit for importing such Item. Product : Halal frozen whole chicken Griller
Origin: Brazil
Brand: Seara or other
Ability supply: 500 MT/Month
Price: Contact us for CNF price
Certificates: a. Brazilian Islamic center for halal stuff
b. Brazilian Agriculture Department
Please feel free to contact us email ex-food at abucglobal dot com or visit our website abucglobal.com for all the information you need to start with us easy safe business.
---
Qasem Alabed
All Ads Qasem Alabed
Qasem Alabed Rating
Date joined:
17-12-2011
Date last seen: 26-1-2012
---
---