تصنيع مستحضرات التجميل للغير تصنيع المنتجات الطبية للغير تصنيع المطهرات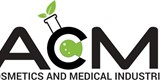 Date published :
12 nd ,August,2020
-
Saudi Arabia
,
Riyadh
Contact details
تعرف على واحد من أفضل المصانع بالمملكة شركة الكيمياي?يين العرب للصناعات التجميلية والطبية المحدودة
شركة الكيمياي?يين العرب للصناعات التجميلية والطبية المحدودة احدي الاستثمارات الاجنبية الواعدة بالمملكة العربية السعودية . ا?سس المصنع عام ???? ليلبي الاحتياج المتنامي للصناعات التجميلية والطبية بالمملكة ودول الخلج العربي
تم تجهيز المصنع با?حدث التجهيزات وا?كفا? الخبرات والكوادر ليواكب التطور المستمر والسريع في العالم ويحقق ما يطمح له المستهلك من منتجات عالية الجودة ومناسبة التكلفة
تخصصت الشركة في ا?نتاج ا?نواع مختلفة من مستحضرات التجميل و معقمات اليدين والمطهرات والمنتجات الطبية وفقا لأعلى معايير الجودة. المصنع حاصل علي ترخيص من الهيي?ة العامة للغذاء والدواء والهيي?ة العامة للأستثمار ووزارة التجارة والاستثمار . يتبع المصنع ا?علي معايير الجودة وحاصل علي العديد من شهادات الجودة علي را?سها شهادة الايزو 9001 و شهادة الايزووشهادة الايزووشهادة التصنيع الجيد والعلامة الاوروبية
Arab Chemists company for Cosmetic and Medical Industries Ltd. (ACCMI) One of the promising foreign investment in Saudi Arabia authorized by the Saudi food and drug authority (SFDA) for production of cosmetics and medical products. ACCMI established in 2010 to meet the requirements of the Saudi market. We began our success from Saudi Arabia as a starting point to meet the needs of the Arab Gulf region and the Middle East for cosmetics - hand sanitizer - disinfectant and medical products.
ACCMI certified for many International Standards such as :ISO 9001 - ISO- ISO- GMP and CE marking.
---
, شركة الكيميائيين العرب للصناعات التجميلية والطبية المحدودة ACCMI
All Ads شركة الكيميائيين العرب للصناعات التجميلية والطبية المحدودة ACCMI
شركة الكيميائيين العرب للصناعات التجميلية والطبية المحدودة ACCMI Rating
Date joined:
5-7-2020
Date last seen: 12-7-2020
---
---