تريلات شاحنات VAN VLIET TRUCKS JORDAN LLC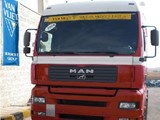 Date published :
4 th ,October,2010
-
Jordan
,
Zarqu
Contact details
يمكننا توفير كل ما يلزمكم من اليات ثقيلة من تريلات ، ذنبات، خلاطات ، كسارات، مولدات مصانع ، قطع غيار ، اكسسوارات جديد ومستعمل . بالاضافه الى سيارات مصفحة جديدة.
نعمل من خلال موقع الشركة في المنطقة الحرة في الزرقاء لنخدمك اينما كنت.
We can provide all what you need from trucks, trailers, mixers, crusher, generators, and spare parts, accessories, old and new. In addition to new armored cars.
We now operate from our home-base in Zarqa Free Zone, serving all parts of the world.
Best Regards
Jack Rabadi
Sales Advisor
Mob: +
Tel: +/3/4
Fax: +
P.O. Box 470, El Fuhais,
Website: www.vanvliet.jo E-mail:

Price details :
مان 2004 ، 18.410 ، TGA XXL لون احمر خط ابيض ، كاسحات ، زعانف ، كونديشن، ثلاجة، سسات امامية، بريف الماني.
---
Jack Rabadi
All Ads Jack Rabadi
Jack Rabadi Rating
Date joined:
11-3-2010
Date last seen: 4-10-2010
---
---