بيع وتوريد اغنام كباش وماعز Supply of livestock cattl sheep Goats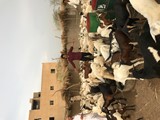 Date published :
5 th ,February,2020
-
Yemen
Contact details
لمن يرغب بإستيراد المواشي او الابل من الحديدة يوجد لدينا مواشي مروعي وشامي او من الخارج كما لدينا علاقات وأعمال مع شركات وتجار متعهدين للتوريد لديهم - وأسعارنا الاقل في السوق ( طبعا على الراس ) ونرحب بالشركات والمنظمات والدخول في المناقصات ونرحب أيضا بالوسطاء . ونسبته محفوظه
للتفاصيل أو أي إستفسار .. الرجاء الاتصال على جوال أبو حمدUnicorn Food & Agriculture
was established in 2010 with head office in Hodeidah - Aden - Sanaa.
At the same time - we have undertaken a major mission of the three-city vision and serve and be strong in the regions.
supply of livestock (cattle - sheep and goats)
develops - manufactures and sells livestock identification products.
The development of safe - animal-friendly and effective tagging is our primary goal - because it is important to our customers.
He has worked with key actors in the livestock sector (including animal / bird production and health) - locally and globally.
We maintain good business relations with many organizations / companies in the sector in which we operate.For further information on procurement and supply of quality livestock to us:
and ask to be directed to the Livestock Managers or Managing Commissioners office.
Attention: Livestock Manager.
---
, UNICORN Trading Investment
All Ads UNICORN Trading Investment
UNICORN Trading Investment Rating
Date joined:
11-4-2013
Date last seen: 26-3-2020
Contact Details
Commercial name
UNICORN Trading Investment
Name
تيسير نصاريTaiseerNassari Nassari
Address
Assbahi city
Country
Yemen
Phone
00905388509782
Fax
00967735590786
Send message UNICORN Trading Investment
Wep page
www.unicorn.ye.com
---