selling pp paper inkjet paper photo paper canvas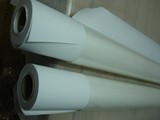 Date published :
1 st ,June,2010
-
China
Contact details
Product parameter as follows:
Thickness:160
μm.
Gram weight:100gsm.
Whiteness:97± 5%.
Glossiness:80
±5%.
Compatible ink:water-based dye ink.
Our normal size:
Width(inch)Length(m)Product details:
This pp paper is made of 140PP synthetic paper coated with glossy non-waterproof coating,the printing image with charateristic of bright color and high glossiness.
It can be widely used for making art glass,roll-up,X banner and hanging scroll.
In addition,OEM is avaliable.
Our products are all in high quality and reasonable prices.
So if you have any inquiry please feel free to contact us.

Price :
USD0.6/square meter FOB Nantong
Price details :
T/T,L/C.by sea
---
, Jiangsu Gemei High Tech Developing Co Ltd
All Ads Jiangsu Gemei High Tech Developing Co Ltd
Jiangsu Gemei High Tech Developing Co Ltd Rating
Date joined:
1-6-2010
Date last seen: 1-6-2010
---
Contact Details
Commercial name
Jiangsu Gemei High Tech Developing Co Ltd
Name
Tony Han
Address
No.19, Zhenxing Road, Economic and Technical Development Zone
Country
China
Phone
86051385328877
Fax
86051385328798
Send message Jiangsu Gemei High Tech Developing Co Ltd
Wep page
www.ntgemei.com
---