culinary oils cooking Tiddis based on olive oil with herbs REGIONAL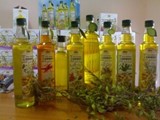 Date published :
24 th ,August,2009
-
Algeria
Contact details
EL MOUHIT bio food .sarl
For the attention of Mr directteur commercial
OFFER SERVICE
Company:………
Subject: OFFER SERVICE
SARL ELMOUHIT located in Constantine algeria and Established in 2009 specialized in the production and processing of organic food products,
offers new product (culinary oils cooking (Tiddis) based on olive oil with herbs REGIONAL
Our ELMOUHIT SARL, offers its new product(culinary oils cooking flavored Tiddis) for export,
Our doors are open to anyone who wants to work with us. -
And to arrive to offer a distinguished level of quality, packaging and price, with its attempts ELMOUHIT young executives reflect a good image on the sincerity, the perfection of work and good service.
ELMOUHIT considered Algeria as a starting point towards a better future, desiring to expand its work on the world.
What makes us unique is "The perfection of the work and trust between us and our clients."
Product description
Tiddis (culinary oils cooking ARE SPICE LIQUID FORM based on olive oil with herbs REGIONAL
Cooking oil (cooking) of Tiddis A selected blend of oils in the form of cooking spices liquid saturated by natural food components, they constitute a set of oils such as aromatic oils, and vegetable oil olive oil and which is intended for various uses stoves, and various meals:
Pulses - Couscous - Meat-Chicken - Pizza-Salads - Sauces chawarama tomatoes - grilled-fish-Cutlets - sauces (dressings) - and various hors doeuvres
-Tiddis oils are now available to the market in several flavors:
- Tiddis oil with ginger
- Tiddis oil with basil
- Tiddis oil with laurel oil sauce
- Tiddis Laurel oil with Garlic Sauce
- Tiddis oil with thyme
- Tiddis oil with rosemary oil
- Tiddis oil with Lemon Oil
Tiddis oils (with a pleasant smell) are cheap, they are in the form of liquid spices, so just put a teaspoon in the pot to find the desired taste. It is preferred to put it after cooking the meal.
Tiddis oils, food and health, facilitate digestion, open the appetite and allow the body to generate pleasant odor.
.
100% Product Algerien
Toll-free dye
1.
Ingredients:
1 - Extra virgin olive oil, cold pressed 1st, handcrafted.
2_ Quality Pure Essential Oils aromatic distillate with a source of local grass
3_ sunflower oil
Sir,
The team ELMOUHIT SARL is listening to you and accept all suggestions.
Usually, Mr, the assurance of our deepest feelings.
The Commercial
Siége: 55 Rue Bounah meh.. Benihamiden
Zone dactivité Didouche mourad Constantine algeria
e.mail:
[ إنظر Contact Details ]
Tél. /fax:+213-
Mob:+
Price :
0000000000000000000
Price details :
fob price
---
, SARL ELMOUHIT BIO FOOD
All Ads SARL ELMOUHIT BIO FOOD
SARL ELMOUHIT BIO FOOD Rating
Date joined:
13-8-2009
Date last seen: 12-10-2010
Contact Details
Commercial name
SARL ELMOUHIT BIO FOOD
Name
ammar farhat
Address
55 rue bounah mouhamed benihamiden constantine algeria
Country
Algeria
Phone
21331914560
Fax
0021331914560
Send message SARL ELMOUHIT BIO FOOD
Wep page
WWW.ELMOUHIT.DZ
---