Traction Forklift Battery Charger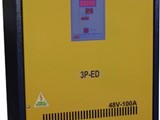 Date published :
11 st ,February,2009
-
Turkey
Contact details
We are one of the reputed manufacturers and suppliers of battery chargers - which have got usage in various areas. These chargers are used to put energy into a cell or battery by forcing electric current into the device. Use of the most advanced technique in manufacturing this equipment provides it a longer life and flawless functionality standard. The range is offered to customers at the most competitive prices .

Price details :
ALL GOODS ARE SUBJECT TO DRC COMPANY TERMS AND CONDITIONS OF SAFE ALL CHARGES AVAILBLE IN CUSTOMER TO SPECIAL ORDER EX WORKS IZMIT TURKEY-MADE IN TURKEY
---
, DRC Information Technology And Communication Company
All Ads DRC Information Technology And Communication Company
DRC Information Technology And Communication Company Rating
Date joined:
11-2-2009
Date last seen: 27-5-2009
---
Contact Details
Commercial name
DRC Information Technology And Communication Company
Name
Ramazan (Ramadan) Ceylan (Gazali)
Address
Buyukdere Cad. Rasit Riza Sk. Azim Apt. No:5 D:5 Mecidiyekoy / ISTANBUL
Country
Turkey
Phone
+90 542 232 34 66
Fax
+90 212 267 02 92
Send message DRC Information Technology And Communication Company
Wep page
drcinformationtech.itrademarket.com
---