Panoramic Villa Lifts in UAE مصاعد فلل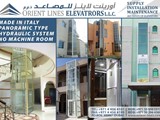 Date published :
4 th ,July,2017
-
United Arab Emirates
,
Dubai
Contact details
Internal & External Villa Elevators, Silent and easy to install, Complete Panoramic, without any machine room, without any pit and shaft. Complete Hydraulic System from Italy. Latest design for Elevators with guaranteed safety for use.
Modern Home lifts without any type of construction work, Hydraulic system, installed inside and outside of the home with four sides Glass.
Price :
10
---
All Ads AHMED JESRI
AHMED JESRI Rating
Date joined:
19-7-2014
Date last seen: 25-9-2017
Contact Details
Name
AHMED JESRI
Address
ابوظبي-دبي-العين-الشارقة-راس الخيمة
Country
United Arab Emirates
Phone
0559565313/044566101
Fax
044566199
Send message AHMED JESRI
---