PPR Production Line For Green Environmental Product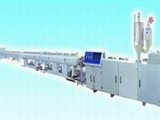 Date published :
23 rd ,November,2008
-
China
Contact details

Brief introduction:
The PP-R pipe set is that our factory absorbs overseas advanced technique to develop one new-type pipe shaping equipment. It is mainly made of extruder, die head, shape-fixing device, cooling trough, traction device, and cutting device.
Main function:
The machine is specializing in processing the PP-R pipe. The pipe is widely used in three ways below:
1.Public and civilian building. Used for transporting the warm and cool water under and on the ground.
2.Industrial building and facilities. Used for transporting cold and warm water, oil and corrosive liquid (for example, salt water).
3. Air conditioning system. It is used as condensing pipe. It can be also used for irrigating fields in agriculture.
Property of PP-R and PEX pipe:
1、High-pressure resistance, Max. pressure that the internal wall of the pipe can stand is 25kgf/cm2
2、Healthful and nontoxic, environmental building materials
3、Corrosion resistance, no scale formation, no pipe clogging and no "second contamination".
4、Long life. It can be used for 50 years in the temperature between-20℃~95℃
5、Good low temperature resistance ,There is no crack under-20℃。
6、Keep warm and save energy, coefficient of heat conduction is only 0.5% of that of metal pipe, and resistance of water flow is small as well.
7、Special tools and heat fusion connection are adopted, which is convenient and liable for pipe casting.
Advantage:
The line has the characteristic of the stable performance; high efficiency .It adopts the high –hardness and grind-resistant screw, special screw stem, central material-feeding spiral die head, high-speed extrusion, vacuum shaping, etc. The product can be used to manufacture the PE, PP, PVC and PEX pipe through changing the different die heads and the shaping device. And so is done the pipe with the marking line.

---
, sale manager
All Ads sale manager
sale manager Rating
Date joined:
23-11-2008
Date last seen: 18-12-2008
---
Contact Details
Commercial name
sale manager
Name
Mr. Wang
Address
No. 37 guodao southwest street, liangjiadian town, yutian county,tangshan city, hebei province, china
Country
China
Phone
86 315 6444837
Fax
86 315 6446367
Send message sale manager
Wep page
www.zfsj.com.cn
---