Opel Scan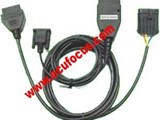 Date published :
11 st ,May,2009
-
China
Contact details
Opel-Scan
Opel Scanner works with Version 1.0.1.4 (Advanced) The AutoScannerOpel program is designed for OPEL cars diagnostics. The program supports majority of electronic control units (ECU), installed on Opel cars from 1987-2005 years. Supported modules are :
Engine Control Unit
Automatic Transmission Control
ABS - Anti-Lock Brake System
ESP - Electronic Stability Program
AirBags
Immobilizer
Distributor Transmission 4WD
Traction Control
Body Control System
ATWS - Anti-Theft Warning System
Central Door Locking System
Multi/Color/Triple Info Displays
Instrument
Power Steering
Audio System
Electronic Climate Control
Sliding Roof
Electronic Seat Memory
Add-On Heater
Headlamp Leveling Device, etc.

---
, Asian Autofocus tech Ltd
All Ads Asian Autofocus tech Ltd
Asian Autofocus tech Ltd Rating
Date joined:
11-5-2009
Date last seen: 18-9-2009
---
Contact Details
Commercial name
Asian Autofocus tech Ltd
Name
Christina xu
Address
86 guangshen road , futian area
Country
China
Phone
86
Fax
86-755-82670224
Send message Asian Autofocus tech Ltd
Wep page
www.ecufocus.com/cd-productsview.asp?ID=212
---