New High Speed Dental LED Integrated EGenerator Handpiece 4Hole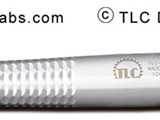 Date published :
21 st ,October,2011
-
China
Contact details
Dental handpiece come in either without light on the tip of the handpiece - or with light. The type that comes with light is usually powered by the fiber optic source which requires significant investment in the matching dental chair and the related fiber optic system.
Now our revolutionary new product TLC E-Generator handpiece brings light to dental offices that have been using handpieces that do not have the light on the tip.
TLC E-Generator has an internal power motor that is air driven - which supplies LED lighting to the tip of the handpiece - so dental professionals can view the operation area without outside light. In fact this TLC lighting system is even more focused and bright than most fiber optic systems.
And not the least - the pricing - as it is directly from our own OEM division - sells even lower than most other regular high speed 4 hole handpieces. It also weighs less than most others and some other features are below for your reference.
1. Self-sufficient power system instead of external light source. Self-illuminated - natural light
2. Operating air pressure: 0.25-0.3Mpa (0.3MPa preferred)
3. Air consumption: 55L/min
4. Speed of generator: 25 - 000-30 - 000 R.P.M
5. 420 - 000 r.p.m for standard head
6. Ceramic Bearings: Quieter and longer life
7. Ultra Push Chuck: Simple bur exchange
8. 3-hole water spray
9. Sterilization by autoclave at (135) Centigrade
10. Unenclosed Cartridge
11. Noise level: Less than 68 dB
12. Chucking power: 20-45N
13. Net weight: 88g
14. Ergo Grip: Secure Grip for your confidence
15. ISO 7785-1
16. CE Mark 0197
17. One year guarantee (half year for bearings)
Find out more about us at AspireLabs website.
Please contact us through Aspirelabs website - we will get back to you within 24 hours.
Price :
249.99
---
, TLC Detnal handpiece
All Ads TLC Detnal handpiece
TLC Detnal handpiece Rating
Date joined:
22-11-2010
Date last seen: 23-11-2010
---
Contact Details
Commercial name
TLC Detnal handpiece
Name
Daisy Johns
Address
1202 Guihe Mansion, Rizhao, Shandong
Country
China
Phone
0
Send message TLC Detnal handpiece
Wep page
www.aspirelabs.com
---