ION Beauty Wand germanium roller beauty products catalog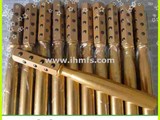 Date published :
12 nd ,February,2011
-
China
Contact details
Tel:0086-137-134-33929
Email:
[ إنظر Contact Details ]
;
[ إنظر Contact Details ]
http://www.ihmfs.com
Help reduce cellulite
Help in fat decomposition
Help eliminate toxins in the skin
Help rejuvenate your skin texture
Help reduce mottled pigmentation
Help reduce fine lines and wrinkles
Help relieve painful muscular spasms
Help unblock skin pores to reduce acne
Help induce beauty cream into the tissue
Help prevent skin sagging and aging signs
Help induce vasodilatation and circulation
Help reduce keratinized cells and coarse skin
Proven Technology
Ultrasonic technologies have long been widely used in scientific fields, in industrial cleansing, in medical ultrasound imagery, etc. and already proven quite effective.
Similarly, skin cells are receptive to the ultrasonic stimulation by the Beauty Sonic Wand.
Where and how to use it
Beauty Sonic Wand can be used on facial skin, on wrinkles around the nose and mouth, between eyebrows, on fish-tail lines, on cheeks, chin, breasts, arms, belly and thighs etc. Use it with the wonder mist cream or with other beauty creams, firming lotions, breast creams or slimming gels and rub gently in circular motions to enhance its efficacy.
---
All Ads LIANDA DA
LIANDA DA Rating
Date joined:
25-1-2011
Date last seen: 11-2-2011
---
---