FABRIC REVERSING MACHINE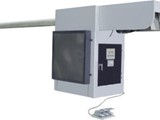 Date published :
15 th ,June,2008
-
India
Contact details
Technical Features:
Reversing of tubular fabrics without mechanical traction.
Innovative air stream system, controlled by pneumatic cylinders and valves.
Loading and reversing of the fabric at the same time.
Execution of Reversing and Plaiting process in a single machine.
Plaiting with stepless speed variation through variable frequency drive.
Available with/ without Plaiting Mechanism.
Stainless steel tubes available of various lengths.

---
, Gayatri Engineers
All Ads Gayatri Engineers
Gayatri Engineers Rating
Date joined:
12-6-2008
Date last seen: 14-10-2009
---
Contact Details
Commercial name
Gayatri Engineers
Name
Amol Desai
Address
PLOT NO. A - 202, ROAD NO. 29, WAGLE INDL. ESTATE, THANE(W), MAHARSHTRA
Country
India
Phone
+91-22-25821471
Send message Gayatri Engineers
Wep page
www.textilemachines.co.in
---