فيلا للايجار بكمبوند داره جاردينز مدينة 6 اكتوبر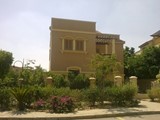 Date published :
10 th ,July,2017
-
Egypt
,
Cairo
Contact details
Villa for rent in Dara Gardens 6th of October City
Villa for rent semi furnished 3 bedrooms, Garden, Garage, Roof
Villa located in 6th of October City inside compound Dara Gardens 2 min away from Mall Arabia
the villa consist of: Ground floor( reception 3 pieces wooden floor with ground terrace, nice bath, big kitchen, maid room with private bath).
First Floor: wooden stairs, comfortable seating room with terrace, Master bedroom with private bath and dressing, 2 bedrooms nice size, bathroom with shower).
Garage : 2 parking spot inside the villa, 2 spot outside.
Price:L.E. monthly.
فيلا للايجار بمدينة 6 أكتوبر داخل كمبوند داره جاردينز كمبوند قريب من نادي الصيد ومول العرب هادئ و مؤمن حراسه 24/7 أماكن للاسترخاء
تتكون الفيلا من : الطابق الارضي( ريسبشن 3 قطع, حمام ضيوف, مطبخ كبير, غرفه خادمة بحمام خاص). الطابق العلوي : غرفه نوم رئيسية بحمام خاص وغرفه ملابس, 2 غرفه نوم للاطفال, غرفه جلوس بتراس مطلع علي حديقة),
جراج: 2 مكان داخل الفيلا, 2 مكان خارج الفيلا
السعر:ج شهريا.

Price :
15000
---
, Home Finder For Real Estate
All Ads Home Finder For Real Estate
Home Finder For Real Estate Rating
Date joined:
15-7-2010
Date last seen: 18-11-2017
Contact Details
Commercial name
Home Finder For Real Estate
Name
احمد خلاف
Address
6 اكتوبر - مدينة الشيخ زايد
Country
Egypt
Phone
01221617104
Fax
00
Send message Home Finder For Real Estate
Wep page
homefindereg.blogspot.com
---